Take a little trip back into some of my favorite things besides the one and only....Genesis!
---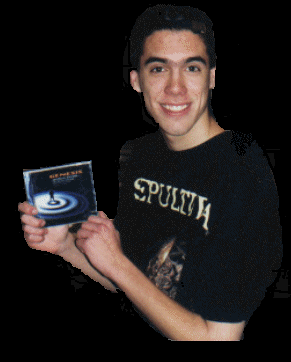 Well my name is Allen Thompson as most of you might know, otherwise know as Al, or BiG Al. Here I am holding the latest Genesis release, 'Calling All Stations'. I thought I'd go with a change of pace here and talk about my many other interests besides Genesis. Some of them are influenced by Genesis or came from them in some way. I hope you will enjoy and learn a bit more about me. I do warn you though, I am a bit different in some ways. It may be striking to you, but "I Know What I Like, And I Like What I Know!"
Of course I LOVE music, music is life! So if you want to take a peak into my ever growing collection or learn more about my favorite musical artists, click here to see my collection.
Some people knew I used to play guitar, and I did. Still do, with my spare time. But my love is drums. To the left is a picture of my set. Not exactly my set, but same model, just different color. Check out more of my drum hobbies!